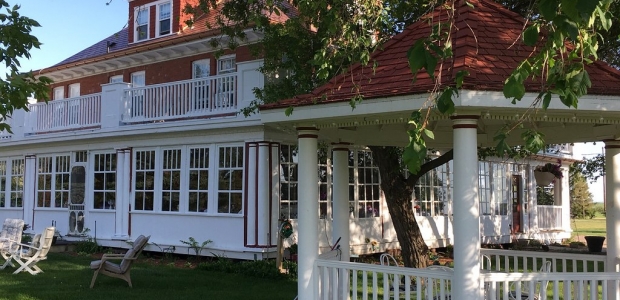 Guest Comments
Below are a few comments that our guests have left us.
More testimonies can be found at BBCanada.com/WakamowHeights
Cricket Reynoldsen, Saskatoon, SK.
".just wanted to let everyone know that i will be back again in feb... the hosts Lois and John are superb host and hostess. i feel like i am a family member every time i visit...i love the romantic atmosphere and beautiful that has been done in this home ... ty and can't wait for next holiday"
Anne-Marie, Peter, and Kay Gill, Edmonton, AB
Hi there. I just wanted to thank you, on behalf of myself and my parents, for the lovely stay at your beautiful bed & breakfast last week. It was very relaxing and it's a beautiful house and yard. I already recommended it to several coworkers today when I returned to work. Thanks again. Take care.
Shannon, Regina, SK
We recently stayed in the Victorian room on the 3rd floor for 2 nights. It was the perfect size for three people! I love how the house is furnished and it was incredible how quiet the neighbourhood was. Breakfast was wonderful and different on both days. I definitely recommend this B&B!
Debra Roach, Winnipeg, MB
I love history and staying at Wakamow Heights made me feels like I had taken a step back in time. It was lovely. The wrap around balcony was awesome. My sister and friends and I were very happy with our stay. Location: Winnipeg, Manitoba
K & C Hanz, Winnipeg, MB
"Awesome! Better than any hotel!!!! More like home."
Judy, Edmonton, AB
I had a wonderful stay at this B&B and would recommend it to anyone. Everything was perfect!!! Location: Edmonton, AB
Judith Urbanski, Calgary, AB
We had a fine time in Moose Jaw and we loved staying with you in your lovely home. We are reminiscing about the delightful breakfasts now that we are back to reality and eating plain oatmeal! Thanks again.
S & J Donnelly
We really enjoyed our stay, you made us feel welcome!. Thank you so much for making our honeymoon so special.
Wayne & Tanna Chase, Regina
We just have to say, it was a very unique experience to have stayed in this home, hosted by John & Lois! We had a very pleasant & relaxing 2 night stay & it was a pleasure, to have met several other guests, while dining at the breakfast table! We loved, how the hosts' house makes you step back in time, with modern amenities & is very historical! Thank you for your superb hospitality!
W & C Andrus, Edmonton
It was so nice to be back. Thank you for making us feel so welcome. We'll be back.
Ted & Lucille McKellar
A superb place for a "family reunion". PS Amazing breakfast. Thank you!!
L. Sorenson, Toronto
"Your home is amazing plus the food, hospitality and host & hostess are all wonderful. Thanks so much for everything. It was most relaxing."
Joe and Abbey
..Hello!!! We just wanted to send you an email to say Thank You for all your wonderful hospitality... Hope to see you this summer. Sincerely, Joe and Abbey
J & J Maxwell, Regina, SK.
Nice getaway for our 6th anniversary! Thanks.
J & S Philpott
Well worth the drive! Yummy breakfast
J & R Fines, Shellbrook, SK.
We had a great time in Moose Jaw, and especially enjoyed our stay in your home. It was beautiful and the breakfasts were awesome. We are looking forward to returning this summer to enjoy the experience all over again. Location: Shellbrook, Sk
K & J Hodd, MeadowLake, SK.
"Beautiful house for a "Rockin" Anniversary Weekend"
Lynne and Ella, Regina, SK.
My mom and I stayed here and would come back again in a moment. Lois and John are wonderful hosts and made our stay remarkably great. We stayed in the Victorian Room (which we felt was the nicest of all) and had plenty of room. The breakfast far exceeded our expectations. We would stay again in a moment and have been passing cards around for others to stay too. Thank you for a wonderful stay!
J. Gemmell
Gorgeous house & grounds
J & C Wiebe, Saskatoon, SK.
Very nice, thank you Lois & John, We loved the real maple syrup!
R & D Herman, Winnipeg, MB
A great home & I will be back. All the best for success!
P. Mikhail & M. Watson, Winnipeg, MB
Nice quiet place, very warm and welcoming. A good place to relax
Ralf Nicko and Christine Heuer, Baltic Sea, Germany
Two beautiful days here, Many thanks for all.