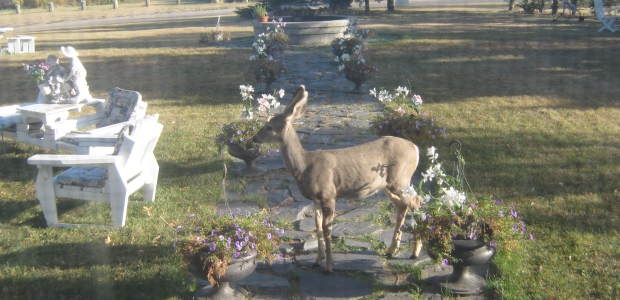 Reservations
We require that each reservation be guaranteed by a credit card number.
Payment
For your convenience, we accept etransfer, MasterCard, Visa, Debit cards and cash. Personal checks are accepted, but must be guaranteed with a valid credit card.
Cancellations
Although rates are subject to change, we will honour the rate in effect when your reservation was made.
Because we are a small bed and breakfast, cancellations greatly affect us. When you reserve a room, we agree to turn away all other requests for that room and you agree to pay the rate quoted for the number of days you reserve it. If you do need to cancel, please notify us as soon as possible. If the cancellation is made more than 3 days before the start of the reservation period we will be glad to cancel your reservation. If reserving three rooms or more, we require 7 days notice to cancel a reservation. We regret that a cancellation received less than 3 days before the reservation period must forfeit the entire room rate unless we are able to rebook the room for you. Email cancellations are not acceptable, as we cannot ensure that they have been received. No shows will be charged in full. Please phone 306 693 9963 if you need to cancel.
Arrivals & Departures
Check-in time is 3:30-10:00 pm. Late check-in arrangements can be made with prior notice. Check-out time is 11:00 am.
Smoking
Out of consideration for all of our guests Wakamow Heights Bed & Breakfast Inn is a non-smoking inn. Smoking is allowed on the grounds.
CHILDREN
Though we love children, we are an adult oriented bed and breakfast, therefore, this b & b is not suitable for small children. Children over the age of 8 are welcome. Thank you.
Pets
Though we love your pets, we do not allow you to bring them. Also, there are no pets living at the b & b.
Restrictions
Due to fire codes, lighted candles are not permitted in our guest rooms.
Maximum occupancy is 2 in our rooms and 3 in our suites no matter what age. Thank you.
Additional Guests
A third guest (when the room allows) will be charged $25 per night.