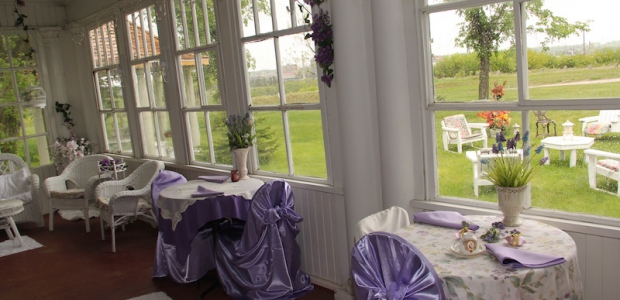 This circa 1902 house has a unique history.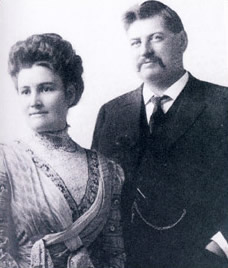 Wellington White was born in Erie, PA of immigrant parents in 1867. James White had immigrated from County Down Ireland in 1842. Brick making had been in the White family for generations and when James had the opportunity to manage a yard in Erie he grabbed it. In 1874 the family moved to Owen Sound, ON and opened their own brick yard. After both parents passed away, Wellington took the CPR to Prince Albert in 1893 where he developed his own brick plant. A few years later, when the railroad was snaking its way across the prairies further south, this ambitious man moved to Moose Jaw where good brick clay was plentiful and business and houses were in great demand for the growing population. He formed the Wellington White Moose Jaw Brick Company.
Wellington was a handsome young man, heavy set, with a head of thick black hair and lively blue eyes. Charming and self assured, he became the darling of the social set and naturally, because he was a man who always did his duty, he helped round up some rampaging Indians from the Swampy Cree of the One Arrow Reserve and hailed as a hero when the battle was over. When an astonishingly beautiful woman beckoned he jumped into her wagon.
Olive Louise "Ollie" Brooks stood almost 6 feet tall, just a bit shorter than Wellington. She had beautiful auburn hair, huge brown eyes and an expressive mouth. She was vivacious! All eyes turned when she entered a room. Ollie's father had immigrated from England years before. He hauled the family's goods in a Red River cart from eastern Canada to a homestead on the Prairies. His beautiful daughter Ollie Brooks, at the age of 18, became the wife of Wellington White. They were considered the most glamorous couple in Moose Jaw.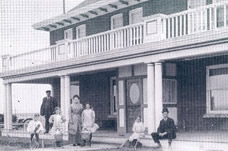 In 1902 Wellington built a fine brick house on a hill overlooking the Moose Jaw River Valley. Six years later, an extension was made to the house to make room for a larger, more elegant brick home where the couple raised four children. The house still stands. Though some structural changes have been made over the years, the solid oak floors, staircase, woodwork and doors, as well as two of the six fireplaces are original. The original boiler was replaced in 2011. The walls, built with the best the brick yard had to offer are triple brick on the main floor and double on the second. This house was built to last one hundred years and isn't going anywhere for another century.
The Whites entertained frequently in their new home; as the years passed the guests included British aristocracy, rich American industrialists and Canadian Prime Ministers, including one John Diefenbaker, a young lawyer from Prince Albert.
Wellington White was credited with building Danceland at Manitou Beach in 1928. The building is world famous for its dance floor built on horsehair.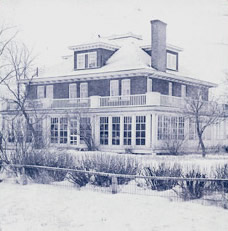 In the spring of 1915 the W.W.M.J. Brick Company closed its doors. The remaining bricks were spirited away by the citizens of Moose Jaw for their own use. Wellington White turned to farming and more lucrative enterprises. In 1934 Wellington White was killed in an automobile accident and in 1939 Ollie sold the "White" house to the Methodist church for a Bible College.
In 1995 the school, now known as Aldersgate Bible College, closed it's doors; and the house was sold to a large family. It was again sold in 2003 and restored/renovated to function as a Bed and Breakfast.
In 2004 the Bed & Breakfast was awarded the Lieutenant-Governor of Saskatchewan Heritage Architecture Excellence Award.
In April of 2006, John and Lois Knowles proudly acquired Wakamow Heights Bed & Breakfast from the Hordyks and, after spending many months restoring the home, they continue to offer the amenities and services of this wonderful bed and breakfast.