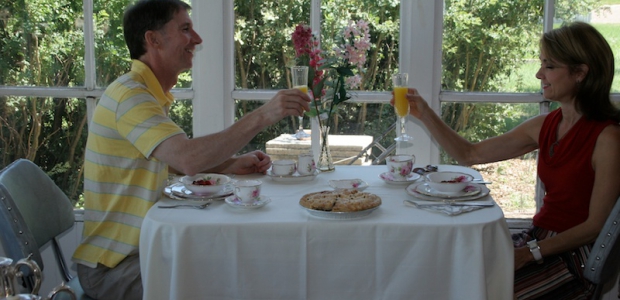 Your full complimentary breakfast, at the time of your choosing (we prefer between 7:30 am and 9:30 am) begins with juice, fresh fruit and our savoury or sweet entree dishes will delight your tastebuds. And... the coffee's on!
During colder months breakfast is generally served in the main floor parlor room, but on pleasant mornings the wrap around veranda is a lovely alternative. Either location provides a peaceful space for a hearty Saskatchewan breakfast.
Though always Chef's choice, some of our entree dishes include, eggs benedict, pancakes and sausages, bacon and eggs, breakfast quasadilla, western omelettes, ham or salmon quiche and grand marnier french toast with bacon. Saskatoon berries are included in every fruit cup.
A packed B&B breakfast to go
If you need a very early departure (before 7:00 a.m) we can provide a packed breakfast if informed by noon the previous day. The meal typically includes:
orange juice
fresh fruit
yogurt
egg salad sandwich and muffin
Special Needs? Let us know as we can normally accommodate most food dislikes or food restrictions.
Breakfast can be delivered to your room on a tray for an additional $15 per room.
Action:View Photo Gallery