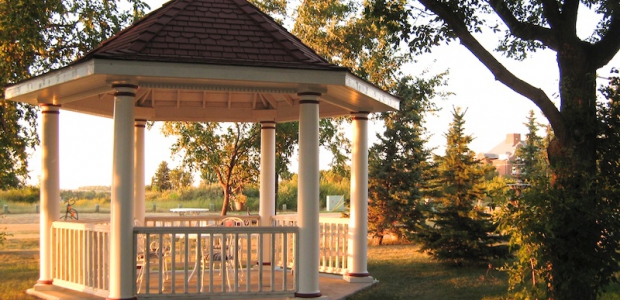 Weddings/Celebration of Life/Events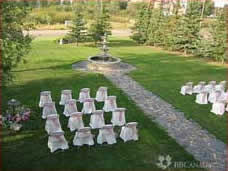 Now that you've said "Yes," where will you say "I do?"
Wakamow Heights Bed & Breakfast is an ideal choice for creating a memorable and romantic outdoor wedding ceremony. Have your wedding ceremony in front of our fountain on the front lawn, and then spend your first night together in one of our four jacuzzi suites.
Consider booking this unique location that boasts warmth and architectural style of days gone by.
If you would like to inquire about having your garden party or wedding (ceremony only) at Wakamow Heights Bed & Breakfast Inn, you may contact us by phone toll free at 1-866-693-9963 or email us at stay@wakamowheights.com.
Pricing is based on a three hour rental ($300 for up to 75 guests, $400 for up to 100 guests, $500 for up to 125 guests, $600 for up to 150 guests, $700 for up to 200 guests, $800 for 250 guests) outdoor on the grounds during the months of May, June, July, August or September. We would appreciate it if you could rent at least one room during your wedding/event. Two of our rooms have access to the second floor terrace. The veranda on the main floor is accessible for visiting.
Ceremonies can only be held outdoors during the summer months. You are responsible for finding your own person to officiate your ceremony. Your chairs can be ordered at a very reasonable price from Holly-Would Wedding & Event Rentals in Moose Jaw. You may call them at (306) 681-7180
Coffee tea, juice and cookies/dainties on the veranda before or after the wedding - $3.50 per person.per
RECEPTIONS: No formal receptions can be held but we can offer an informal style buffet consisting of sandwiches, veggies, fruit and dainties, coffee, tea, lemonade for $16 pp.
PST and GST will be added to your total bill. This works well for a Celebration of Life, grad get together, bridal shower or even a very informal wedding reception.
Action:View Photo Gallery